Don't just take our word for it.
Read our verified reviews from paying Australian customers.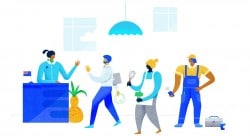 Our customers rate us with a

95

% satisfaction rating
Trusted by over 50,000 Companies

350+ reviews

10+ reviews

100+ reviews
Very easy way of setting up a company. It only took me about 15 mins to finish everything. I think the price is reasonable too.
I found it way easier to use than the government site and because of that I was happy to pay that bit extra
Great online site to register company with such an ease. Loved the over all experience of registering company in a convenient way.
This was by far the smoothest way to register a company. A person like me who is not so tech savvy managed it. So can you!Thanks guys
Quick and easy! Application was completed in a few minutes and the application process was so simple. Will definitely be recommending!
It was so easy to fill out the form and get an ABN. It took me 5 minutes to fill out the form and 1 minute later, I received my ABN!
Perfect! I appreciated the multiple share classes available in the application, thereby allowing this at incorporation.
Thoughtful and efficient service, I appreciated the explanations regarding GST and PAYG and they helped inform my final decisions.
It took me less than 5 minutes to register Business and Domain name. EasyCompanies website is extremely user friendly.
Quick and easy to use. I highly recommended for anyone looking to apply for their ABN and Business Name Registration easily and hassle free.
Quick and easy registration process! Excellent customer service too! Would definitely recommend to new businesses for reliability and efficiency.
Excellent service - have registered two separate companies to date, with no hassle! One stop shop making things very convenient and easy!
I'm not sure if I did it all right but I think I did was good to have someone to chat to help u through it though
Really quick and easy, plus the LIVE chat was super handy for dumb questions (from me) along the way. Thank you !
Pretty good process - Was guided through some of the tricky parts by the online chat room person (Emma D). Thanks a million. Not too stressful !!!!
It was great - super simple - super quick! This is my 2nd or 3rd time using this service and I will always come back again if needed!
Almost everything works as it should throughout the application process. I tried 2 other online services and got stuck in both. Highly recommended.
Easy to understand, time saving, convenient in every way possible. Would be happy to recommend to family and friends.
easy companies are fantastic to work with. very quick to respond to queries in real time while completing my application. thank you!
Easy! Hah.Everything was very straight forward and easy to understand. Would definitely recommend to friends and family.