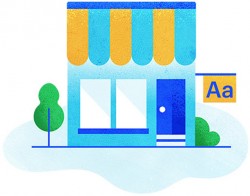 Business Name Registration
Tip A business name is different to a company name
Registering a business name allows you to legally trade under the name of your choosing. With the expert team at Easy Companies, the business name registration process is quick, easy and can be conducted entirely online in just a few minutes. So you don't need to take any more valuable time out of your day than is absolutely necessary.
At Easy Companies, we take care of the heavy lifting when it comes to legal entity paperwork. Whether you need to register a business name or complete a company name registration, we are here to support you throughout the entire process. 
The difference between a business and a company name
For many businesses, the name you trade under is not the same as your initial company name registration. You may not have decided on the best trading name for your business when you completed your company registration or your business may be taking on a new direction. Business name registration allows you to legally operate under your chosen trading name, regardless of what your registered company name may be.
---
Do I need to register a business name?
If you want to trade under a different name to your company's registered name, you'll need to register it as a business name. A couple of examples are below.
Needs to register a business name:
Elite Plumbing Group Pty Ltd trading as Elite Plumbing Group.
or
Elite Plumbing Group Pty Ltd trading as Plunger & Co.
Doesn't need to register a business name:
Elite Plumbing Group Pty Ltd trading as Elite Plumbing Group Pty Ltd.
---
Pricing
1-year registration
$79 AUD
3-year registration
$139 AUD
Registering a company with us? You'll have the chance to register a business name as part of that order.
---
Quick and easy online registration
Registering your business name is a quick and easy process that can be completed entirely online with Easy Companies. As with our company and ABN registration services, we do our best to ensure that the process is as smooth and simple for you as possible. Our easy-to-use system is designed to take the pressure off so when you register a business name, it will require as little time and effort as possible. Start the process online today and get your business name registration taken care of by the experts. Contact the team at Easy Companies today and register your new business or trading name with ease.
---
How it works
Use our business name search tool to check the availability of the name you want to register. If it's available, we'll lodge your application online and the name will be registered as yours, instantly.
A registration needs renewing from time to time, but don't worry, our renewal alerts will keep you in the loop on any important upcoming dates.
---
Build a brand
Choosing a distinctive, interesting business name is a key part of building a brand. It helps make your business more than the sum of its parts, and stand out in the marketplace.
Tip: If you've got a business name you love, consider registering it as a trademark for even greater protection.
Secure and reliable All of our tools and services are encrypted, verified by eWay and backed by Norton Verisign.