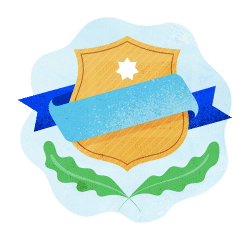 Fast 95% of customers applying during business hours receive their ABN within the hour
Apply for an ABN today and people will know you mean business. We help make the process simple, and are on standby if you need a hand. You can apply for an ABN, and register for GST and PAYG all in one place.
Does my company need an ABN?
Most companies in Australia need an ABN. From sending invoices, to filing tax returns, an ABN is an essential part of the day-to-day running of business.
You'll definitely need an ABN if:
You'll be handling invoices
If you're issuing invoices to customers, or receiving invoices from suppliers, you'll need an ABN.
You want to open a business bank account
Most banks ask for your ABN when opening a business account with them.
You'll earn $75k or more
All businesses earning over $74,999 a year need an ABN. You'll also need to register for GST if you expect your turnover to exceed this amount.
You'll be paying salaries
If you're planning to take on staff, you'll need an ABN to pay their wages. That's so they can be registered for PAYG – withholding tax. You'll need an ABN to pay any directors too.
---
How long will it take?
Australian Business Number
If you apply during business hours, you'll usually have your ABN emailed to you within the hour. Occasionally the ATO review applications, which can take up to 28 days. We'll tell you In the unlikely event that this happens, keep you updated on the progress of your application, and do all we can to speed things up.
GST/TFN/PAYG Numbers
These numbers aren't instantly issued and the ATO (Australian Tax Office) needs to review these applications. You will receive these numbers along with a confirmation of ABN registration via postal mail within 3-5 working days.
---
Important
Can I use my existing Sole Trader ABN or Partnership ABN for my company?
No
If you've already got an ABN as a Sole Trader or Partnership, and want to start a company, you'll need to apply for a new ABN, as it's treated as a separate entity. You can't use a sole trader/partnership ABN on invoices issued by a company. Find out more here.
---
What do you need to get started?
There's no paperwork or ID verification to worry about. All you need to lodge an online application are a few details including:
Your company name and main business activity.
Your email address. This is where your ABN will be sent to.
Key people. You'll need to register at least one director or shareholder's phone number. Supplying the Tax File Number of all directors and secretaries will help speed up your application.
For GST Registration you will also need:
To give an estimate of your GST sales turnover, and decide whether to report sales monthly, quarterly, or annually.
To register for PAYG withholding tax, you'll also need an idea of how many employees you're likely to have (including paid directors), and how much income tax you're likely to be withholding per year.
Secure and reliable All of our tools and services are encrypted, verified by eWay and backed by Norton Verisign.