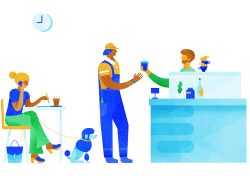 Register a company, today.
Simple online company registration for only $568, ACN & ASIC documents delivered within minutes, not weeks.
1 in 20Australian companies use EasyCompanies to Register a Company

Start your company today, pay later
Interest free, nothing to pay upfront, flexible repayments. Simply spend at least $600 at checkout.
Our customers rate us with a

95

% satisfaction rating
Trusted by over 120,000 Companies

40+ reviews

750+ reviews
Easy! That was great! I was worried about how complicated it would be but as your website suggests, that really was easy to do even for me!
Thanks very much for taking my calls Lauren and proving prompt information on how to renew business names. Many thanks for the assistance.
EasyComapnies is actually really easy to use, very simple easy to use forms, logical, people of any age can use this to start a new company online
best and easy way to make a company they do help alot when you need help and they dont charge alot. thank you guys for your help
EasyCompanies is truly made the company registration process easy. I have using the platform for more than 3 years and have never had an issue.
Such an easy experience! being a multiple business owner I will definitely be using this service again for my next venture.
It was the best way to make a company. Why do people still go to accountant and pay like 900 to 1000 dollars when this is done way cheaper.
My experience with EasyCompanies was great, I really appreciate the way they made whole process easy.
every time I was stuck on something I gave them a call and Isaac walked me through it when it was needed, muchly appreciated.
Name says it all, makes the process easy, thank you so much, have used you before, again now and I am sure in the future :)
Have used 3 other websites in the past to lodge and register a business name. THIS WAS BY FAR THE EASIEST AND CHEAPEST. Don't go anywhere else
The process of setting up a company was extremely simple and the system stepped me through exactly what was needed in order to get it done.
Great Service, even helped me process a refund when I accidently ordered an ABN for a Corporate Trustee Formation.
So easy to navigate with loads of explanations of what's actually happening in language that is easy to understand!
They Best and made things so easy to understand and always on time to reply and help with any questions.
Fantastic Fast and Simply way to Set a Company at a Low Cost. Support was on hand for any questioning and help.
EasyCompanies is definitely a one stop shop for registering a new company and made the process very simple.
Awesome! Fast , simple, easy! Some other site charged me triple to price! So I jumped to here - and fortunately saved $200. Thankss!
This was a easy and simple application just like the name says "easy", I am definitely happy with this service.
Amazing. Very easy and intuitive to use. This is my 3rd time setting up a company with easy companies.