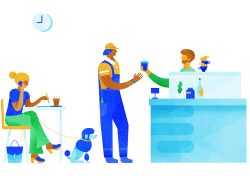 Register a company, today.
Simple online company registration for only $533, ACN & ASIC documents delivered within minutes, not weeks.
1 in 20Australian companies use EasyCompanies to Register a Company
1,000 bonus Qantas Points
Use EasyCompanies and you could receive 1,000 bonus Qantas Points to get your business off to a flying start.
T&C's apply. Find out more
Our customers rate us with a

95

% satisfaction rating
Trusted by over 50,000 Companies

350+ reviews

10+ reviews

100+ reviews
It was really easy and nice. However the details on business categorises are not exhaustive lists. It need to be a more details.
So simple! Isn't that what we all want? I'd use this service every time and will be recommending them to everyone. Thanks.
I used easy companies to set up my company two years ago and have just registered my trading name. Too easy!
We had a few miss understanding and thanks for helping us resolving the small problems we encountered, Thank You
Not bring a person who likes technology this was very easy and fast and also payments and receipts fast too service was great too.
Verygod experience. Direct to the point step by step very quick and easy way to setup company. Love it.
Excellent I didn't struggle to find any trouble in finding new business names. Very professional
Great customer support. Very great support from Sarah online chat. she was very patient to explain everything
The platform is easy to navigate and the online live chat is very helpful. Will definitely recommend to all new business owner
Awesome service! so easy to use and the help hints along the way streamline the process even further.
Perfect. It covers everything you need to start a professional business. That was a great help. Fast and easy. Appreciate your help.
Was a really good and the most good thing have a live chat to help you out for somewhere you don't get anything cheers
quick, easy. Some questions had me re reading for my own security. Also the payg tab stumped me but i believe i answered correct. Thank you
Always easy to register a company here that is why I continue to use your organization every time I need to register as company for a client.
Seemless process easy t o follow. This was a lot easier than going direct with the ATO which was confusing. Very cheap and easy big thumbs up
Thank you for making this process so easy. Will most definitely recommend this website. Kind regards, Megan.
Very straight forward and easy to follow and definitely affordable compared to other ABN registration service providers.
Im pretty sure that was the easiest experience. ACN, ABN, GST, PAYG, Business Name and Domain in one go...
Fabulous! So easy to use, and straight forwards no mucking around. Well priced also for the service offered.
very easy to use and covers every aspect, I called them a few times today and they were very helpful