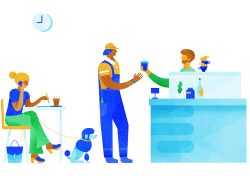 Register a company, today.
Simple online company registration for only $533, ACN & ASIC documents delivered within minutes, not weeks.
1 in 20Australian companies use EasyCompanies to Register a Company

Start your company today, pay later
Interest free, nothing to pay upfront, flexible repayments. Simply spend at least $600 at checkout.
Our customers rate us with a

95

% satisfaction rating
Trusted by over 50,000 Companies

350+ reviews

10+ reviews

100+ reviews
Yes it was pretty good. Would like more description on the more info tabs but thats cool. Worked it out in the end
With EasyBusinessNames, it was a quick and simple process at a cheap fee. I recommend them for business registration.
Very good. I used the chat room with the staff, Emma. She clarified what I asked and concerned. Thank you very much.
USer friendly portal, logical suggestions for questions unknown to someone new registering a company. Overall very happy!
excellent - very good service - i used first time - i have been the client of ACIS for the last 20 years.
10 out of 10, excellent and helped me fantastically, having your helping hand on the side is brilliant, thank you
Started off as a complicated process since I have never done it before, but I was helped immensely by Jack G during the process. Thanks.
Easy and great services. I would recommend all the newcomers to try with this EasyABN. Great experience
Very professional service, easy to deal with & fast response to any questions!Thank You EasyBusinessNames
An incredibly efficient service that is easy to use and understand making the process of opening a company painless.
This whole process was strati forward and simple. The proof will however be in the actual registration outcome which I do not have yet
Very easy process. Great that the domain name can be set up at the same time. Not that cheap but worth it for sole trader set up.
Best and easy service provided by easy companies. As per their name, they are really "easy companies" registration
This is my third company I have registered with EasyCompanies.Highly Recommended :)Ahmed Saraya, Hyatt Projects
Absolutely amazing site. So user friendly and simple to understand. Well done. Would highly recommend your site.
Quick and easy application. Great online help. Easy, fast good experience to deal with EasyComapnies. thank you
EasyCompanies process was well laid out, and with great support throughout both through Chat and FAQs.
Was pretty easy, I got stuck called one of the customer service members he made it so much easier for me
its very easy to use and saving a lot time . anyone can use it . saving money as well . thanks a lot EasyBusinessNames
Such an easy site to use and the hints and tips make the process a pleasure! I will use EasyCompanies again for sure!