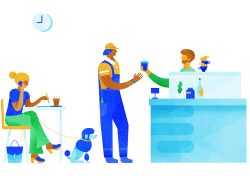 Register a company, today.
Simple online company registration for only $559, ACN & ASIC documents delivered within minutes, not weeks.
1 in 20Australian companies use EasyCompanies to Register a Company

Start your company today, pay later
Interest free, nothing to pay upfront, flexible repayments. Simply spend at least $600 at checkout.
Our customers rate us with a

95

% satisfaction rating
Trusted by over 120,000 Companies

40+ reviews

750+ reviews
Straight forward easy to use and made simple.so far so good. will have to wait see how long it takes for the ABN to be issued!
It goes by the name, the entire process is easy, work flow is perfect and fulfill every single need on One Platform.
very straight forward and also has live chat whilst you are submitting your application which helps out
Wow!. The service is so streamlined. This is the easiest way to get your business name registered. Thanks for the great service.
One stop shop, get your ABN & Business Name registered all on this site, very easy step by step questions to complete.
Any problems were my not understanding the form, but help was available and extremely proficient at sorting out my problems.
EasyCompanies was helpful and quick to answer my questions during the application process. Everything was straightforward and hassle free.
It was easy, I'm not the best with filling out online applications but I've submitted and now waiting
thanks for EasyCompanies, the steps of registration a company legally become very easy and understandable for me.
Excellent service, explains all the required information, couldn't do it by myself via the government website.
An effective form of business renewal. fast , effective and easy to navigate and so affordable. This ensures renewal is on time every time.
Excellent. This is probably my fifth or sixth company i have registered with EasyCompanies. Seamless!
That was easy! I really appreciated the help guides for each question and the explanation of how to approach the question!
Always easy yo operate , complete , submit for the setb up of documents . Just a very easy site to operate.
I have used this company to register my businesses within 5 minutes. So fast and reliable. Recommended to everyone.
Amazing amazing amazing!! Really well set out, easy to navigate menus, easy payment system, JUST SO EASY!!!
Easy as suggested. Very straight forward and informative. Also cheaper than previously identified parties.
The process was seamless and straight forward. Having researched other business name providers this was the most cost effective
Very easy process. The customer service agent in the chat box was extremely helpful in guiding me to the correct product for my needs. I will be back!
I love the service the professional and friendly staff. Trustworthy and always help you with anything questions or help needed