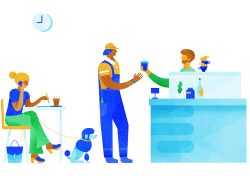 Start your company, today.
Simple online company registration for only $533, ACN & ASIC documents delivered within minutes, not weeks.
1 in 20Australian companies use EasyCompanies to Register a Company
Registered ASIC Agent #33614
Registered Tax Agent #24719723
ASIC Software Provider #2065
Our customers rate us with a

95

% satisfaction rating
Trusted by over 50,000 Companies

350+ reviews

10 reviews

12 reviews
Academy of Entrepreneurs always encourages our startup students to register their businesses with Easy Companies! Thank you for making it so easy!
as the name suggested 'easy' to navigate with guidance and help when i needed it ... almost as if they were making it too easy ...
simple and fast service. you get your ACN within 2 min. Easycompanies take you to the door to just open it
The online application process was well structured and easy to follow. The help provided along the way was also very useful.
It was really good. When there has been an issue reps have contacted me and given me some advice on how to fix. Thank you.
It was really easy and my only difficulty was handled really well by Vanessa who guided me through the final steps
What a great way to start a business, even if I had a question it was answered in FAQ section! Thank you.
Excellent I didn't struggle to find any trouble in finding new business names. Very professional
Really easy!Jokes aside, without a doubt the easiest and most stress free way to register a company.
I had no idea how to set up a company. With easy companies everything was simple and I was all set up in minutes
The application process was very easy to use and the customer service provided over the phone was very helpful also.
Third time using easycompanies. Such a brilliant service at a very competitive price. Thank you again!
Great customer support. Very great support from Sarah online chat. she was very patient to explain everything
Thank you. Was easy with the steps given. Look forward to moving forward with my business.Thank you John
I cannot recommend Easy Companies more highly. No question goes left unanswered and their business support truly matches their name - Easy!
Easy steps to registration and easy quick searches for conflicting names, simple easy and stress free, I certainly recommend them
Quite easy and alot cheaper than the other bulling companies that phoned e mailed and basicaly threatend me to renew with them at twice the price!
Everything was pretty simple. The only tricky thing was making the shareholder My Name atf Family Trust but I think it worked ok.
Easy, supportive, and smooth! Everything was explained in a simple manner- better than other services I looked at using.
Was easy to create a ACN and ABN. i din't mind paying the fees for piece of mind and live chat support while submitting my application. recommended.