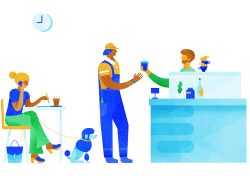 Register a company, today.
Simple online company registration for only $559, ACN & ASIC documents delivered within minutes, not weeks.
1 in 20Australian companies use EasyCompanies to Register a Company

Start your company today, pay later
Interest free, nothing to pay upfront, flexible repayments. Simply spend at least $600 at checkout.
Our customers rate us with a

95

% satisfaction rating
Trusted by over 60,000 Companies

10+ reviews

100+ reviews
Live chat was good. Quick service. I am sure I will be able to view my additional name on my ABN soon. Thank you!
Thank you for the experience. It was easy and efficient. You're very well developed. Thank you EASYABNSSincerely Jason
Very quick and easy to navigate. No hidden surprises and the cheapest registration available. Very happy, Thanks.
Just as the business name states - it was easy to set up a company. Have used this service twice in recent years.
Company application looks thorough and complete. Very straight forward as you just follow the "Bouncing Ball" or questions :)
It's very straightforward and quick . The suggestion boxes provide further more explanations when in doubt.
great service and fast turnover time 100% worth paying for every time has been a great experience- reliable
Easy to navigate and the Support Agent definitely help answered all my questions till the very end. Superb!
Super easy, simple to understand and quick to complete. Such a cost-effective solution! Really responsive, super helpful customer service.
The service worked really well with plenty of online tips and live chat for any more complex matters... what's there not to like?
Very easy and straight forward application process and everything is explained well. Best ABN registration price I've found.
The steps were easy to complete and understand with no issue. Honestly enjoyed my experience! Thanks
The assisted navigation helped me complete this process in 10 mins, whereas I was stuck on the governments ABN website for hours lost.
Used this service twice now, highly recommend, simple, easy. Someone put the effort into getting this right and it has paid off.
EAZY COMPANIES IS SO GOOD TO DEAL WITH . It is the easiest way to do the registration for company or business name . VERY HAPPY
I've used Easy Companies twice now. It really is easy, and the customer service via email is superb!
Great website and easy to use. Phone calls quickly answered with excellent assistance. Many thanks.
It was a good experience easy and simple and straight forward, the team support is readily available to help
THIS SERVICE WAS USER FRIENDLY . Live chat was available immediately with instant response time too.
Very easy to use. The online chat was helpful and responded quickly. Compared to other websites, i'd recommend Easy Companies.