Don't just take our word for it.
Read our verified reviews from paying Australian customers.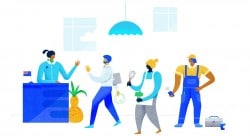 Our customers rate us with a

95

% satisfaction rating
Trusted by over 60,000 Companies

40+ reviews

750+ reviews
Easy process and just like what the company name suggests. I have been using this company many times already and they are quick and reliable.
Very easy to navigate this process and good service with the live chat help available to answer questions.
Excellent! Easy to use and the added support of the online chat agent made the process of registering my business so seamless! Thank you
Well laid out, simple and easy to understand, great service. Have used Easy Companies on multiple occasions without issue!
Live chat was good. Quick service. I am sure I will be able to view my additional name on my ABN soon. Thank you!
It is so easy to use and have alot of options to help get your company started , highly reccomend it
Super easy and very helpful to have all the extra options to assist in starting and securing your business name
Very quick and easy step by step process. So easy that you feel like a tech pro in applying for a company. Thanks
Extremely easy to use the application and lot of great tips on each of the questions which helped me finish the application very easily.
Super fast and succinct service, and their live chat agents are knowledgeable. They have a really good user dashboard too.
Very good website and easy to process by tasks. Gave clear choices for opting out of extras. Positive experience.
Easy for a first time user, however I did use the "Chat" option (Harper S. kept me on the right path!)!
amazingly easy, was shocked at how fast it was and having the LIVE CHAT there just in case was awesome. Thanks guys/gals
It was very easy to fill all the details very straight forward and all details and the company was formed in minutes amazing !!
Pretty exceptionally straight forward. I'm starting my first registered business in Australia and this process has been really helpful. Cheers!
Easy. Follow the prompts. Make sure you have the relevant information and it was pain free. Very quick too
EasyCompanies has made registering a business name and receiving an ABN super easy and Lucy was amazing with helping in chat. Thank you
100% Recommend, so easy, affordable and instant results into my emails. I have used several times and will recommend to all my family and friends.
My experience with EasyCompanies was amazing! Very fast process. Simple and straight to the point. I would highly recommend.
super easy to use and follow directions. within couple of easy minutes i had all the documentation emailed to me and a fully operational company