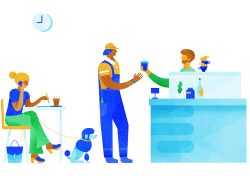 Register a company, today.
Simple online company registration for only $568, ACN & ASIC documents delivered within minutes, not weeks.
1 in 20Australian companies use EasyCompanies to Register a Company

Start your company today, pay later
Interest free, nothing to pay upfront, flexible repayments. Simply spend at least $600 at checkout.
Our customers rate us with a

95

% satisfaction rating
Trusted by over 120,000 Companies

40+ reviews

750+ reviews
Easy... Thank you for helping us get our businesses registered and our dreams transformed to realty!!
I have been using EasyCompanies for a couple of years. It's pretty convenient and easy to be filled company details which saves many times for me.
Very convient, took less than 30 mins to complete all the steps including new ABN registration for the company.
So far its been very thorough, I hope to remain with them as they're very leading edge and easy to use.
Very easy process with chat function , I would not have been able to complete by myself. Very happy with your process.
Nice and Easy Process. I could register my new company in 10 minutes on a Sunday Evening (while isolated due to being COVID close contact)
Great I had been trying for weeks through ASIC and couldn't even log in as had a change of phone number so are very grateful.
Easy to navigate. Will use easycompanies services again in the future and will certainly recommend Easycompanies to others.
Very easy to use. Most times that I've had to enter details and information like this I've found it difficult at time however this was great.
So simple and quick! I was nervous (First time) but the step by step guide made it all okay. I'm so excited to take the first steps in my new company
Easy Business is so super easy to use, like the name say's, it's my go to when company and the staff are very helpful and friendly
So easy and quick! Thoroughly recommend if you are starting a small business and need to register a company - took control of everything!
We always use easy companies because they are the best.Regards Sulaiman Ayubi Tax and Accounting Professionals
The online chat support is exceptional. Easy and convenient to register all your business information in one application. Highly recommend.
Very simple and friendly service provided, as starting a business maybe intimidating at first but EasyCompanies has made it a great experience.
EasyCompanies was a convenient and easy way to complete all that was needed to register a new company.
I have very good experience with EasyCompanies, to create my company in very easy process with no hassles.
Im a happy customer its cheaper than the others and Instructions was easy to follow, thank you so much EasyABNs
Very easy to follow and cheapest company out for registration prices also great it includes business ready package!
easy to use interface, quick and fast. have been using this service since last 6 years and always come back.