Don't just take our word for it.
Read our verified reviews from paying Australian customers.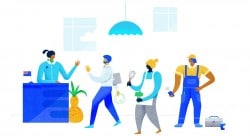 Our customers rate us with a

95

% satisfaction rating
Trusted by over 50,000 Companies

350+ reviews

10+ reviews

100+ reviews
Pretty easy and straight forwards, great to be offered the extra packages and to have the choice to use or not to use them like domain name etc
Very easy to navigate my way through the website. Very happy with my experience and the cost is low.
This was my first time filling out these types of documents, and I have to say it was a pretty easy, and painless experience.
This service is great and easy to follow with instructions and even quick to register, options to register .com etc also available
Wow I struggled through the ATO website but this made it so simple. Very happy. Glad I registered the simple way.
Great! The name 'EasyCompanies' says it all - everything is easily set out so that it's all hassle-free. Good to deal with! Thank you EasyCompanies.
Very "easy" to register business/company with Easycompany. The support is also available via webchat
Easy companies is the best way to register companies. It makes the registration process easy and convenient.
Very easy and intuitive online experience. It's also great that they offer flexible payment options.
I found the process very straight forward and easy to negotiate with clear instructions and explanations
Easy online application for both ABN and Business Name Registration all in one go. So much easier than last time I had to do this!
magnificent very easy to use a friendly team member on hand if you need help was happy with the out come a far price as well so happy
Straightforward to use, and comprehensive additional help hints throughout all parts of the form/application process.
Very easy site to navigate I loved the green tick as it clearly shows that what you have entered is valid.
So far so good. I'm an hour in and everything seems to be sorted....... The website operates well which helped the process.
Very fast and easy to set up my first time business. Much more affordable then using legal services to do what can be done myself.
Excellent and easy company registration with a few additions that were handy to have presented as options - ie business name registration.
Emma D in Live chat was very helpful and responsive with her answers. She made the process nice and simple
Definitely EASY! No problems registering! Will use EasyCompanies if need to register anything further and recommend. Thank You!
So far so good, very easy and simple to follow... I just hope the rest of the journey is just as smooth :)