Don't just take our word for it.
Read our verified reviews from paying Australian customers.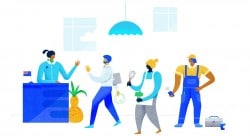 Our customers rate us with a

95

% satisfaction rating
Trusted by over 50,000 Companies

350+ reviews

10+ reviews

100+ reviews
I have been incredibly impressed with just how straight forward and easy your team make the whole process. Thank you. Very satisfied.
I found the website quick and easy to use and the explanations made it easier to understand the questions and requirements along the way.
Thakx it's so easy to apply for ABN here In future when I need to register gst than I ll back here again
Totally easy.....sometimes wonder why I've not done sooner?? Too easy to get done....even dumb as i act sometime
Really easy and fast process. The small service fee slightly hire than government fees is great value!
Well out of a lot of websites available to initiate a company, we have always used this website.Easy and helpfull
Quick and easy my accountant wanted to charge me $1300 and this was near half the price. I also check ABN to make sure it wasn't dodge aswell
easy companies are fantastic to work with. very quick to respond to queries in real time while completing my application. thank you!
I love using you guys. Straight to the point easy to setup and when you need to talk to a human if there are issues they are there
Fantastic. Trying to complete what was required on the gov websites took hours. EasyCompanies saved me at least half a day.
It was so easy to fill out the form and get an ABN. It took me 5 minutes to fill out the form and 1 minute later, I received my ABN!
Quick and easy to use. I highly recommended for anyone looking to apply for their ABN and Business Name Registration easily and hassle free.
Do yourself a favour, use EasyCompanies -they do what they say on the tin. 1, 2, Registered. It's that easy.
Quick and easy! Application was completed in a few minutes and the application process was so simple. Will definitely be recommending!
Very easy way of setting up a company. It only took me about 15 mins to finish everything. I think the price is reasonable too.
It took me less than 5 minutes to register Business and Domain name. EasyCompanies website is extremely user friendly.
Very easy! Explained everything you had to do really well and was a lot cheaper than the other websites I went on
The process was really quick and easy. The support was prompt and helpful, whenever I needed assistance with the forms.
Almost everything works as it should throughout the application process. I tried 2 other online services and got stuck in both. Highly recommended.
thank you for the easy way your company has set up this program to get my new company up and running