Don't just take our word for it.
Read our verified reviews from paying Australian customers.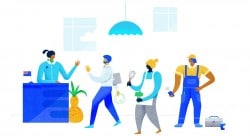 Our customers rate us with a

95

% satisfaction rating
Trusted by over 120,000 Companies

40+ reviews

750+ reviews
It goes by the name, the entire process is easy, work flow is perfect and fulfill every single need on One Platform.
I have used this company to register my businesses within 5 minutes. So fast and reliable. Recommended to everyone.
This isn't the first company I've registered, but I will head straight to EasyCompanies for their services if ever I need to register another.
very straight forward and also has live chat whilst you are submitting your application which helps out
Excellent. This is probably my fifth or sixth company i have registered with EasyCompanies. Seamless!
Amazing amazing amazing!! Really well set out, easy to navigate menus, easy payment system, JUST SO EASY!!!
EasyCompanies was helpful and quick to answer my questions during the application process. Everything was straightforward and hassle free.
Easy Companies make this process soooo easy! The help information at each step answers any questions you have and it literally takes 15 minutes!
Wow!. The service is so streamlined. This is the easiest way to get your business name registered. Thanks for the great service.
As the name suggests 'EasyCompanies' is easy to use and easy to set up a company. ⭐⭐⭐⭐⭐ - Five stars from me!
thanks for EasyCompanies, the steps of registration a company legally become very easy and understandable for me.
That was easy! I really appreciated the help guides for each question and the explanation of how to approach the question!
It was easy, I'm not the best with filling out online applications but I've submitted and now waiting
Excellent service, explains all the required information, couldn't do it by myself via the government website.
Easy as suggested. Very straight forward and informative. Also cheaper than previously identified parties.
EASY ONLINE SERVICE. WHEN I NEEDED TO CALL THE TEAM THE SERVICE OBTAINED QUICK AND EFFICIENT. I HIGHLY RECOMMEND THIS ORGANISATION.
An effective form of business renewal. fast , effective and easy to navigate and so affordable. This ensures renewal is on time every time.
Very nice simple procedure for obtaining an ABN. The flow, speed and ease of this site is fantastic. Thankyou.
Very easy exercise to register company online and save accountant fee for same registration, i highly recommend.
Always easy yo operate , complete , submit for the setb up of documents . Just a very easy site to operate.