Don't just take our word for it.
Read our verified reviews from paying Australian customers.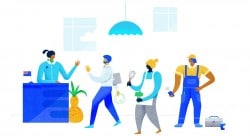 Our customers rate us with a

95

% satisfaction rating
Trusted by over 50,000 Companies

350+ reviews

10+ reviews

100+ reviews
The on-line application is very easy and their office staff are very efficient at answering questions.
This is my third company I have registered with EasyCompanies.Highly Recommended :)Ahmed Saraya, Hyatt Projects
Best and easy service provided by easy companies. As per their name, they are really "easy companies" registration
It's so easy to register company through easy company. Did not face any problem through whole process of registration.
USer friendly portal, logical suggestions for questions unknown to someone new registering a company. Overall very happy!
Registering your business name with Easy business Names is beyond easy and very logical. I would recommend them.
Absolutely amazing site. So user friendly and simple to understand. Well done. Would highly recommend your site.
Started off as a complicated process since I have never done it before, but I was helped immensely by Jack G during the process. Thanks.
Very good. I used the chat room with the staff, Emma. She clarified what I asked and concerned. Thank you very much.
it was easy on some parts and hard on others but i got the help keep up the good work and the stuff. You are doing a great job
With EasyBusinessNames, it was a quick and simple process at a cheap fee. I recommend them for business registration.
excellent - very good service - i used first time - i have been the client of ACIS for the last 20 years.
its very easy to use and saving a lot time . anyone can use it . saving money as well . thanks a lot EasyBusinessNames
Such an easy site to use and the hints and tips make the process a pleasure! I will use EasyCompanies again for sure!
EasyCompanies process was well laid out, and with great support throughout both through Chat and FAQs.
I highly recommend easycompanies to everyone as I have been using them for myself & friends for over 4 years now, so easy & simple.
The question marks could have had a little more comprehensive information or links to more resources. otherwise it was a good experience.
Quick and easy application. Great online help. Easy, fast good experience to deal with EasyComapnies. thank you
Much easier than the last company I used to register my business name. Very efficient. Will use again.
The process was easy, I saved to return later onI and received a phone call asking if I needed assistance