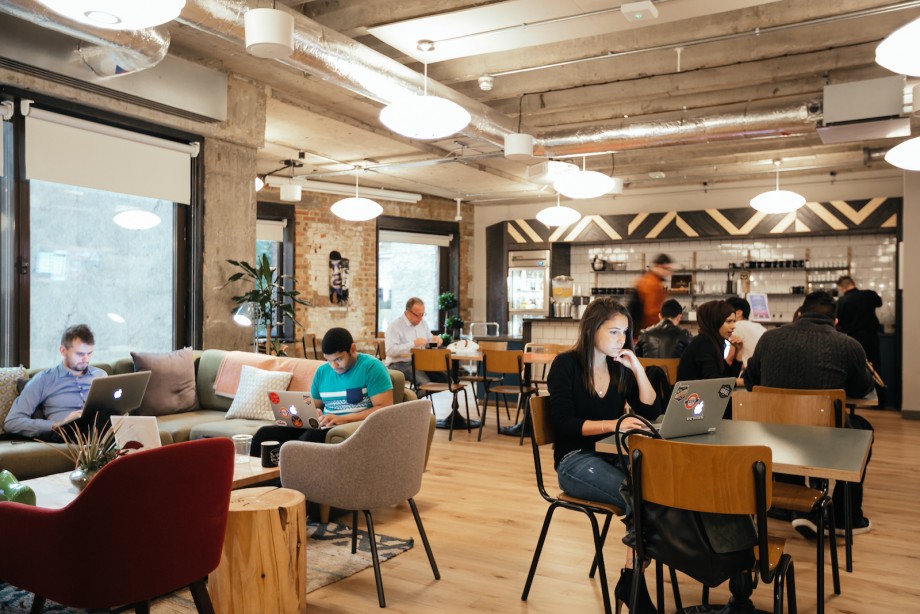 May 22, 2015
Working from Home vs. Working in a Co-Working space
The space in which you work can have a significant impact on your success when starting a business. A work environment "is an indicator positively associated with subsequent financial growth".
That's why it is extremely important to compare alternative work environments to ensure the space you're in is allowing you to reach optimum productivity and efficiency. For small businesses, the two most common work places are either the home or a co-working space. 
We have compared the benefits and burdens of each space in order to help you determine which workspace may be most beneficial to your business, and think about when it might be time to change your environment.
Costs
When you are just starting a business keeping expenses, such as rent, as low as possible is extremely important so that you do not get held back with debt. And therefore the cost of a workspace may affect where you decide to work from.
Working from home is a great way to save money on rent when your business is first starting out, as there is no additional rent which you need to pay for an office. On top of the rent payments, working from home means that there is zero travel expenses and no time taken to get to work, therefore you can be using that time and money elsewhere in growing the business.
Renting a desk at a co-working space is significantly lower than having an office space somewhere or a long-term lease, but it is still an expense. Co-working spaces are generally around $300-$500 per month. This can be difficult to pay when you are just starting out, and with little to no funding. But if you want to be in a professional environment, a co-working is an affordable option.
So depending on what stage your business is, and on your capital, it may determine whether you work from home or a co-working space.
Although the cost is an important consideration in choosing between a home office or co-working space, it is necessary to weigh up the monetary cost of a space with other non-monetary benefits that could be gained from alternative work environments.
Opportunity
Working from home can provide opportunity by means of allowing you to get work done in a quiet space, however the possibility of opportunities arising may be somewhat limited to what can be achieved through the internet and phone. However working autonomously may be better for you depending on the nature of your business.
One of the benefits of being in a co-working environment is the networking that you can do. You can never have too many friends or connections when starting a business. Co-working spaces often have events and mentoring sessions which may be a great chance to meet someone you could learn from, get an idea, to partner with or who may be interested in investing.
Additionally co-working spaces attract people from all different disciplines and backgrounds, so having alternative perspectives; feedback and encouragement from others may help you improve your product or idea. Working with others may also encourage healthy competition, by watching the successes of your fellow co-workers, to motivate and inspire you.
Distractions
One of the biggest influences on your productivity can be distractions. Whilst distractions when working are not completely avoidable, depending on your situation a certain workspace may pose fewer distractions for you and create a better working environment.
Depending on your family situation working from home may be great. If everyone has left for work or gone out for the day, it may give you some quality hours at home alone where there is no one to distract you whilst you work. However the times when other people are around your home, can often make it extremely difficult to be productive. The home can sometimes provide a lot of other opportunities to get distracted such as cleaning, cooking, running errands or odd jobs which you may find yourself doing rather than actually sitting down doing work.
Alternatively co-working spaces create an environment to work. You are provided with a desk area, surrounded by other which are also in the environment to get work done. There are no odd jobs to be done like around the house, so the only priority is to work. However co-working brings together a lot of like-minded people, and as a result can be extremely social. This is not necessarily a bad thing at all, but with YouTube and coffee breaks, it is not hard to imagine that there may be a lot of procrastination.
Look at your home workspace now, and think about what are your biggest distractions to work, this may help you decide whether home or co-working is better for you.
Work Life Balance
Maintaining a work-life balance whilst starting a business can be extremely difficult, and often isn't thought about when deciding on a work environment, however it can be essential in your success.
Working from home can give you more time to enjoy activities other than work, as you save time and money on getting ready and travelling to and from work. You may also be able to do more things with family and friends, as you can schedule work in around those activities. However unless you are very disciplined, the challenge then can be fitting in enough work time around your social commitments.
Working from home can often make it hard to disengage from work when you are at home, as there is no separation between your place of work and your place to relax.
A co-working space may give you more structure with work as it operates fairly similarly to a regular office with opening times, designated work spaces and fellow colleagues, and as a result may give you more routine with work hours and days. Although many co-working spaces are open 24 hours for members so this could also mean that long days and many hours are spent in the office.
But depending on the worker that you are, having an office separate from the home may assist in separating work from home, and therefore you can allocate set work days and times in the office in order to maximise your productivity on days that you are there.
Summary
There are many things to consider when deciding on what environment you should work from, when starting your business. Working from home and in a co-working space are very distinct, therefore it is important to evaluate your personal tendencies and circumstances in order to determine what's best for you. Starting a business also involves a lot of trial and error, so if what you're doing isn't working out for you, you can change it up and see how it goes. Hopefully this comparison helps you figure out where to work for your best chances of success
This information is of a general nature only and does not constitute professional advice. You must seek professional advice in relation to your particular circumstances before acting.
---