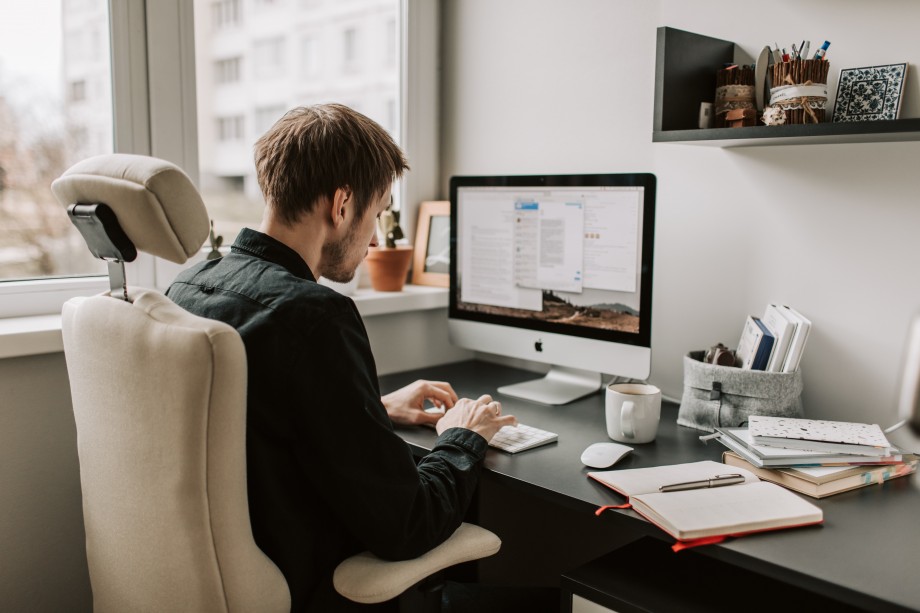 Dec 17, 2021
Why Domain Name Registration Is Important For Your Business
With modern society so heavily reliant on the internet, businesses without their own domain names or websites are slowly beginning to fall behind. Choosing to register a domain name for your business will help you accelerate your exposure to potential customers and clients — launching your business into the spotlight.
Domain name registration allows your business to have an online presence; a vital part in establishing your brand and legitimacy. Having an online presence allows you to reach a wider audience as millions of online users can now reach your website. This may not happen instantly, but there is a greater chance of spreading the word online. 
Whether you are setting up a completely new business or just considering domain name registration, the domain name you choose for your business can be a vitally important factor in the visibility of your business on the internet. A domain name speaks volumes about a business in several ways, which is why you need to put time, effort and care into choosing the right domain name.
What is a domain name? 
In simple terms, a domain name can be described as an address on the internet. Every website on the internet has an IP address which is a unique number identifier, but with so many of these numbers in existence and seemingly random, it's much easier to remember a domain name. 
A domain name turns an IP address (such as 198.51.100.1) into yourbusiness.com.au, making it easier for you and your clients to reach your website or allow you to set up a personalised business email address. 
Do I need a domain name for my business? 
As a domain name essentially reserves your space on the internet, if you intend to have a business website or email then the answer is most likely yes! 
A domain name is an important marketing tool for your business, regardless of what industry you operate in. With the world becoming more and more reliant on the internet by the day, having a strong online presence is vital for almost every business around the world. Not only will a quality domain name help your business become more visible on the world wide web, but it will also help your business grow for many years in the future. 
Reserving your space on the internet with a domain name means that no one else will be able to register and use that domain name. Website domain registration is something that will stay with your business for a very long time, so if you're not ready to broaden your business online at this very moment, registering your domain now will give you the flexibility to build your online presence in the future when you are ready. 
Website domain registration is something that will stay with your business for a very long time, so choosing a good name at the beginning is essential both now and later on down the track. 
How to choose the right domain name for your business
When it comes to choosing the name you are going to register, you'll first need to decide whether to use your company name or choose an alternate domain name to represent your company. If your company name accurately represents what you offer your customers, like "Affordable Plumbing Services", then registering your business name as a domain name may be the best solution. If you have a long business name or one that can be difficult for your customers to spell or remember, you should consider choosing an alternate domain name to register. 
The next part of your domain name choice is what extension you want to use. While most customers will recognise a .com, .org or .net suffix, there is a wide range of other extensions that you can choose from. If you are a business completing a domain name registration in Australia that operates solely within the country, you may decide to go for a .com.au extension.
Key advantages of domain name registration: 
1. Adds credibility to your business
Having a domain name allows your business to appear professionally to its customers. Basic free web-hosting services will provide you with generic URLs such as www.yoursip.com/-yourbusiness, appearing to your customers like you aren't putting effort into creating valuable products and services. If you register a domain name on the other hand, your business turns into yourbusiness.com.au which presents an organised, professional and reputable look. 
2. Builds your brand
Perhaps most importantly, a domain name helps to increase the awareness of your brand. Providing visibility for your brand through a domain name, much like a storefront window, will create awareness and attract customers. If your domain name matches your company name, it reinforces your presence, makes it easier for customers to remember you, and potentially pass your name onto friends via word of mouth. 
3. Allows mobility in your web presence
Owning your own domain name creates mobility for internet presence when changing web hosting services, relocating to a different country or shifting to using your own in-house server. A domain name stays with you, allowing you to continue building your brand without having to start all over. If you do not own your own domain name, transferring web hosts will require you to take a new URL, destroying any branding and search engine ranking that you built up with your first address.
What do I do once I've registered my domain? 
Once you have registered your domain name, you may consider setting up a professional email and website. Both of these online tools can have significant benefits to your business:  
Professional Email 
If you've ever found yourself scanning through your inbox and deleting an email from an unknown yahoo or hotmail source without reading it, this is why a professional email is crucial to your business! A potential customer is far more likely to read an email from enquiries@cateringsydney.com.au over one from susancaters1990@gmail.com. 
By creating a professional email, you are taking the step towards building a sense of trust and brand recognition with your customers. Your professional email will allow your customers to identify your business and commitment to professionalism. 
Beyond the confusion that several haphazardly constructed generic email addresses may cause for a client, it can also embed a fear of fake or fraudulent transactions. 
Once your domain name registration has been secured, we have simplified the process of creating a business email account with our Google Apps (G Suite) by EasyCompanies offering. Within mere minutes you can be sending and receiving emails from your new professional email address without the hassle of dealing with multiple providers and complex DNS records.
Website
With 2.2 billion digital buyers and 3.5 billion searches on Google daily, website domain registration is a great way to get your products and services out there for your potential customers to see. Having your website setup will build your credibility and make your business look more professional for when customers find you. 
Websites also give you great flexibility as a business, as you can include anything from sales, customer support, contact forms, livechat, email, phone numbers and so much more! 
To start the process of getting your website up and running, there are plenty of website builders you can utilise such as Squarespace and Shopify. 
Once you've found a website builder and have created your page, you can attach your domain name to your website by entering the DNS records or Custom Name Servers issued by your website host into your 'Advanced DNS Settings'.
How can I complete my domain name registration?
Domain name registration in Australia is made simple with Easycompanies! If you are registering a company, business name or ABN, you can simply add a domain to your order in the 'Customise Order' step. Simply search your desired domain name, pick your preferred extension and add it to your order. 
If you have already established your business outside of Easycompanies, you can still complete a domain name registration application with us! To register your domain, you will just be required to provide an ABN or ACN for your business as well as one person's contact details. 
By registering your domain name, you are taking a vital step in the right direction for your business. As an online presence is a crucial part of establishing your reputation and brand awareness in the current online focused world, take the right measures and register your domain today! 
All information provided on this webpage is general information about our products and services. Nothing on this webpage is intended to be professional advice of any kind and should not be relied on as such. You should obtain specific financial, legal or other professional advice before relying on the content of this webpage. By not seeking such advice, you accept the risk that the information on this webpage may not meet the specific needs of your business. Our liability is limited to the maximum extent permitted by applicable law in accordance with our website terms and conditions.
---